Situated in the heart of Wong Chuk Hang, l'Atelier Guilaine Rabault reflects a unique identity for women looking for an exclusive and pampered moment for their hair. The salon provides a nice space where each item has been carefully curated.
It is in this refined environment that Guilaine and her team host clients for an unparalleled beauty experience.
The peaceful atmosphere promotes wellbeing.
Comfortable tulip chairs enable relaxation, bathed by the rhythm of discreet melodies. Huge mirrors specially made for the salon reflect the natural light that the Atelier benefits from.
Behind the glass wall of the Hair corner, you can discover a curated selection of fashion and jewellery, all proudly made in Hong Kong.
The salon favors organic products and places a lot of care in its sourcing of colors and treatments.
This influential hub is made up of an interesting mix of international talents. Among them, her assistant who has been by her side since the opening, and soon, freelance manicurists and other specialists who will provide services on request.
As a true reflection of its creator, l'Atelier is a warm and inviting place that makes us feel our best.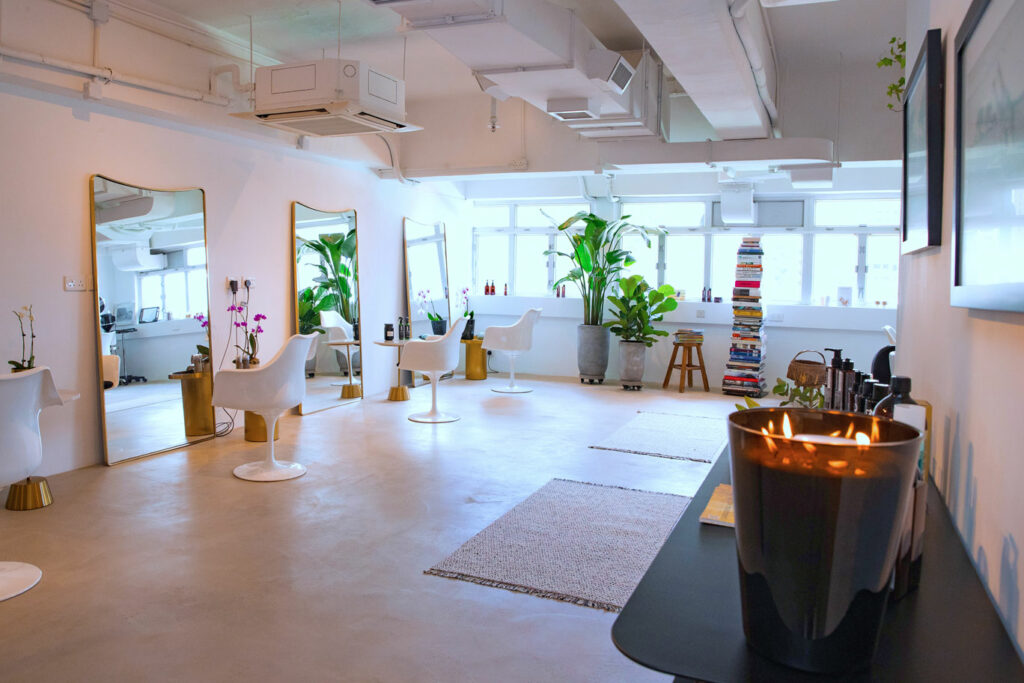 Installé au cœur de Wong Chuk Hang, l'Atelier Guilaine Rabault affirme une identité unique pour les femmes à la recherche d'un rendez-vous privilégié et sur mesure pour leurs cheveux.  Le salon offre un bel espace ou chaque pièce a été soigneusement choisie.
C'est dans ce cadre raffiné que Guilaine et son équipe reçoivent pour une expérience beauté incomparable.
L'atmosphère est paisible et propice au bien-être.
Des confortables chaises tulipes permettent la détente dans une ambiance musicale aux mélodies discrètes. Des immenses miroirs spécialement conçus pour le salon reflètent la lumière naturelle dans lequel l'Atelier est illuminé.
Derrière la verrière de l'espace coiffure, on découvre un cabinet de curiosité avec une sélection mode et de la bijouterie fine made in Hong Kong.
Le salon privilégie des produits biologiques et porte une attention particulière à la sélection des couleurs et des soins.
Véritable carrefour d'influence, son équipe est un vivier de talents internationaux. Parmi eux, son assistante qui la suit depuis l'ouverture du salon et bientôt, des manucures free-lance et autres nouveautés qui proposeront des rendez-vous uniquement sur demande.
A l'image de la créatrice du salon, l'Atelier est un lieu chaleureux où l'on se sent bien.